Ocean's Role in Sustainable Food Production
16th + 17th  September 2019 UC Davis campus
Register here.
[one_half]The Sustainable Oceans NRT will co-sponsor a symposium on sustainable food from marine sources. Please see the
symposium web page
for a draft program and registration information. Preregistration deadline: 10 September 2019. [/one_half] [one_half_last]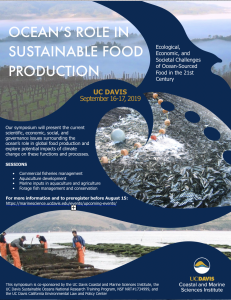 [/one_half_last]  
Sustainable Oceans hosts two panels of UC Davis faculty on ocean sustainability and interdisciplinary research
13 September 2018
[one_half]We're excited to host two panels discussing the challenges of ocean sustainability and the challenges and opportunities of interdisciplinary research.[/one_half][one_half_last]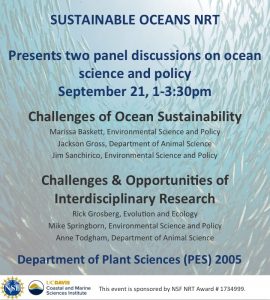 [/one_half_last]
Sustainable Oceans will launch its first course this Fall Quarter!
6 September 2018
[one_half]Sustainable Oceans: Natural and Human Systems is a graduate course in marine science and policy. It is open to all UC Davis students.[/one_half] [one_half_last]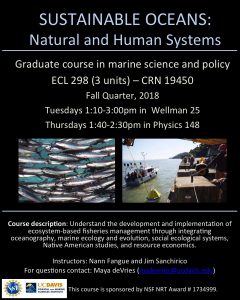 [/one_half_last]
This week in Nature
[one_half]UC Davis Civil and Environmental Engineering alumnus Eric Porse has a publication and the cover of the current issue of Nature Sustainability. And there's an article about climate change and the cod fishery, too.[/one_half][one_half_last padding="0 0 0 20px"]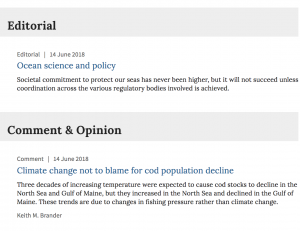 [/one_half_last]
Sustainability. It's what's for dinner.
[one_third padding="0 0 0 0px"]
[/one_third] [two_third_last padding="0 0 0 20px"]SO trainer and co-op extension specialist Jackson Gross has worked with local sturgeon producer
Tsar Nikoulai
to develop a complete aquaponics system. According to the Tsar Nikoulai vice president of operations, "The goal really is to be more sustainable...We hope that our success drives other fish farms to use resources that were formerly wasted." Want to know why Jackson is sitting in front of a bunch of things that clearly are not fish? Check out the very cool 
details.
[/two_third_last]
Director of Training Activities: apply now
15 February 2018
If you hold a PhD in an appropriate discipline and want to make a different in preparing a new generation of graduate students in addressing challenges in sustainable marine resources, please considering applying for the position of
Director of Training Activities
for the Sustainable Oceans NRT. We're looking for someone with Ph.D. degree in Ecology, Resource Economics, Marine Science/Policy, or a related field, and prior experience in planning and conducting research in coastal and ocean science and/or science education. Ideal candidates also should have professional experience or knowledge of the science-policy interface, willingness to understand the latest concepts and techniques in ecosystem-based fisheries management, a working knowledge of experimental design, statistical analysis, data management, and decision-making under uncertainty, and experience in publishing original research in coastal and ocean science and/or related fields, and in preparing grant proposals. To find out more about the position and to apply, please go to 
https://recruit.ucdavis.edu/apply/JPF02044
For full consideration, please apply by 12 March 2018.
Marissa Baskett honored
25 January 2018
Sustainable Oceans trainer Marissa Baskett has been named a
UC Davis Chancellor's Fellow
-- awarded annually to a handful of faculty -- in recognition of her work in fisheries management and outreach to fisheries advisory groups.
Congratulations!
Fall 2017 CAES Outlook
[one_sixth padding="0 0 0 20px"]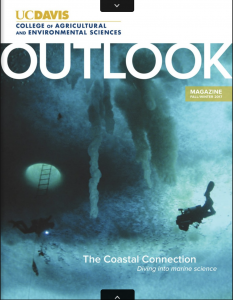 [/one_sixth] [five_sixth_last padding="0 0 0 20px"]
29 October 2017
The current issue of the College of Agriculture and Environmental Sciences magazine, 
Outlook.
 focuses on marine resources and sustainability. You can read articles on Bodega Marine Lab, BML research on white abalone restoration, marine resources, and more in the
online edition
.[/five_sixth_last]  
A new generation of marine scientists
Jul 27, 2017Â 
— 
Kat Kerlin