We are no longer accepting applications to the doctoral training program.
The Sustainable Oceans: from Policy to Science to Decisions training program puts the policy focus on the front end of the research and training enterprise as a means of building more effective links between the science and decisions on sustainable use of living marine resources. The basis of our interdisciplinary approach combines traditional graduate training in core disciplines and interdisciplinary courses on marine science and policy with immersion into the policy process and politics surrounding ecosystem-based management.
There is growing appreciation that the disconnect between the scientific and policy communities is due to scientific research questions that do not align with the information that policymakers need to make informed decisions, and to researchers who often lack the wide-angle lens necessary to understand how their disciplinary research integrates with other science to address policy questions. By combining courses with experiential learning components that immerse students in the decision-making environment, our program facilitates the development of use-inspired research on ecosystem-based management, and builds the communication and professional skills of our trainees by engaging in conversations with vested stakeholders on the policy and politics of natural resource management. Our paradigm to interdisciplinary training moves the focus on policy to the front-end of the research enterprise, when questions are asked and hypotheses formed. Our immersive training program includes:
dedicated curriculum designed for students in their first two years of graduate study
field trips to resource-dependent communities to engage with stakeholders and community leaders
internships with science and policy organizations
basecamps: multi-day workshops with decision-makers and stakeholders organized around marine management issues
research presentations at an annual Sustainable Oceans symposium
interactions with visiting scientists
Students in the Sustainable Oceans program will continue active engagement throughout their graduate career. Although they will complete formal coursework by the end of their second year in the program, more senior cohorts will mentor newer cohorts, participate in visiting scientist events and recruitment activities, and contribute to the intellectual development of basecamps and the causal chain course. Further, these students will be actively mentored by their dissertation committee and Sustainable Oceans trainers through collaboration on a dissertation chapter that reflects research appropriate to the Sustainable Oceans program.
To learn more about the Sustainable Oceans training program, explore these pages. You also can download an abbreviated version of our NSF proposal. Our frequently asked questions page also might be useful. Got an infrequently asked question? Email us boving@ucdavis.edu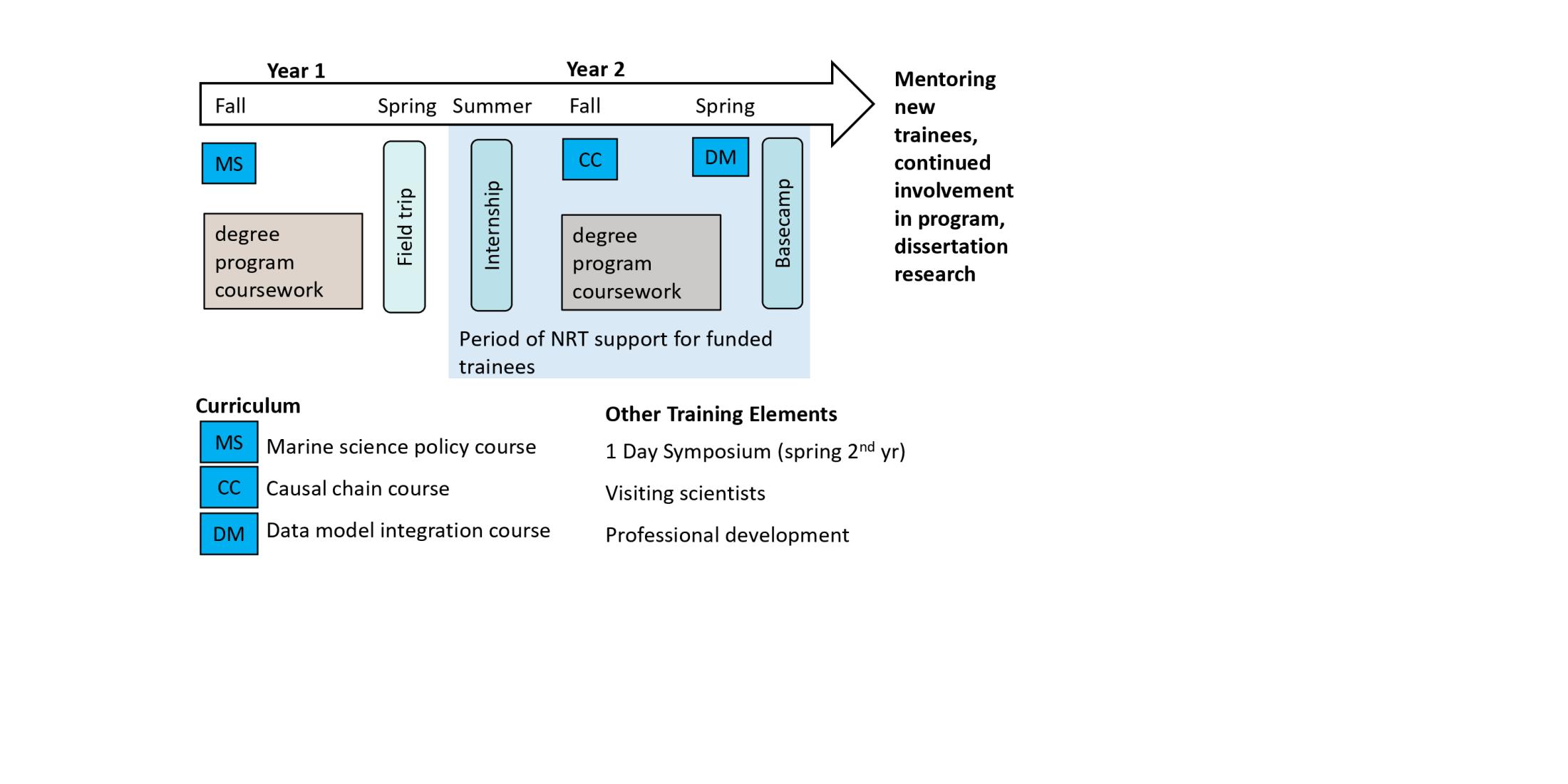 .